Global Aluminium developed expertise in aluminium extrusion for over 25 years now and our export presence is spread around the world in different countries such as the UK, USA, Canada, Europe, France, Germany, Spain, Russia and even more in the Middle East and Asia including China and Australia. Global Aluminium is known to be the best aluminium supplying company with 15,000+ aluminium extrusion profiles & 50,000+ dies along with custom designs basis requirement. We are one of the largest aluminium extruder with 11 aluminium extrusion presses resulting to a capacity of 50,000 metric tonnes per annum and we are the largest value added aluminium extrusion manufacturer under single roof, in India. 
With our great team and management, we all focus on success which leads us to quality and attention to detail throughout the structures as we strive to implement the best modern technologies.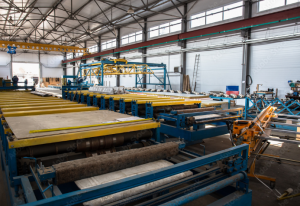 Success Story
The story began in 1996, when a visionary anticipated the vital role of aluminium in the global metal industry for the next few years and how it could revolutionize various industries in India and around the world.
From humble beginnings, Global Aluminium was set up with the desire to produce excellent quality extrusion profiles from the single extrusion press and has grown into a modern form in 10 years. Now recognized as the third-largest aluminium extrusion manufacturing company in India, Global Aluminium is the most sought-after partner for the global aluminium trade requirements
With constant advancements in technology and strategy, Global Aluminium has not failed to develop into a new era of aluminium extrusion manufacturing by accessing and developing the right skills at the right time. Thus becoming India's most reputed aluminium extrusion manufacturer for quality and reliability in 2016. On the backdrop of collaboration and innovation, from 2016 onwards, our development scaled up every year with machining and production operations, became the largest value-added aluminium extruder in 2018 and set up aging foundries and furnaces in 2021, thus becoming India's largest exporter of value-added aluminium extrusions.
Segments of operations
Building & Construction:

Aluminium is widely used in exterior facades, modular structures, scaffolding, fencing, load-bearing structures, stairs, railings, shelves and other uses.

Transmission Distribution:

Major companies like Power grid, NTPC, BHEL, ABB, GE, and Siemens etc. have chosen our aluminium extrusions for many applications: Control panels, switchgear, electrical substations, etc.

Medical Orthodontic Equipment:

The usage of aluminium in medical and orthodontic equipment has increased significantly due to advances in the medical equipment industry such as orthodontic equipment, surgical instruments, diagnostic equipment and X-ray machines.

Renewable energy:

  the usage of aluminium is not constrained but applies to the use of renewable energy sources such as photovoltaic modules, roof panels, solar lamps and lights, wind turbine structures, wind turbine nacelle parts.

Electronics & Electrical

: Aluminium is used for both mechanical and electrical purposes in all these devices, including the following: Lighting and LEDs, Microprocessors, Heat sinks, Computers and laptops, Busbars, Connectors and lugs and more.

Automobile & Aeronautics:

Automotive companies like Volvo and suppliers like Hyundai, Renault, Nissan, Maruti, and Honda are our trusted partners. Our profiles range from spare parts and engine components to body structures and more.
And even more in different segments, our aluminium extrusion profiles are not limited but work in sectors such as automation Industry, defence Industry, doors & windows, air Handling units, architecture products etc.