The process of pumping aluminum alloys is outlined via pre-set and shape-defined dies to acquire a needed and innovative shape of the product. These are just comparable to squeezing toothpaste from the tube. Along with the high implementation across thousands of products, the use of aluminum extrusion has even skyrocketed in the last two decades. It is all because of the divergence of complementary properties in terms of strength and flexibility that made it an alternate choice for numerous applications rather than metals. Therefore aluminum, despite its advantageous qualities like strength and sturdiness, there is no requirement to compromise on additional choices like finishing and efficiency in production. 
Aluminum Extrusion is the method equally suitable for both usual and the most complex shapes as well in a wide range of big, medium plus micro items for structural members. There are a few sections that speak more of the extrusion that cannot be produced by another process economically. The other major advantage of the method is that it can generate very complex cross-sections and work materials. With an excellent surface finish & precision cuts, it forms finalized aluminum extrusion profile sections. Aluminum parts produced by the extrusion process provide different advantages. The aluminum industry can be sectioned into two principal sections. Engaged in the whole value chain from bauxite mining in an alumina refinery to converting alumina into primary aluminum metal, the key segment is the generation of primary aluminum through integrated producers. Secondary or downstream producers engaged in manufacturing value-added, semi-fabricated aluminum products like rolled things, extrusions, and foils come under the second principal segment.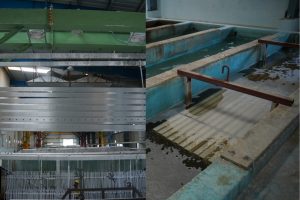 Aluminum Extrusion- Finishing & Fabrication 
To improve the properties, profiles can be heated once the extrusion is finished. Once the heat treatment is completed, to enhance the look and corrosion protection, they can get several surface finishes. One can even undergo fabrication operations in order to bring the final and optimum dimensions. 
Heat Treatment: Enhancing Mechanical Properties
To improve the ultimate tensile strength and yield stress, alloys in 2000, 6000, and 7000 can be provided with heat treatment. For the achievement of the enhancements and process, profiles are put into ovens where the aging method is moved on and they are then brought to the T5 or T6 tempers. 
What changes exist in the properties? 
To put it in a perspective – untreated 6061 aluminum (T4) has a tensile strength of 241 MPa (35000 psi).  Raw & unprocessed 6061 aluminium with T4 temper has a tensile strength less than 240 MPa whereas the heat treated aluminium with T6 temper will have greater tensile strength, more than 300 MPa. 
For a better understanding & clarity on the choice of alloy & temper, it is very critical for the client to choose the right strength of the metal, demanded by the project.  After heat treatment, profiles can also be finished. Aluminum profiles might go to the number of various finishing operations. The two major reasons to consider these are that they can improve the look of the aluminum. You can even improve the corrosion properties and hence there are too many benefits. 
Global Aluminium – Aluminium Extrusion Manufacturer & Value-added profiles
GLOBAL ALUMINIUM PRIVATE LIMITED, a Company incorporated under the erstwhile provisions of the Companies Act, 1956, is an ISO 9001-2015 & ISO 14001:2015 Certified by TUV SUD, engaged in manufacturing of premium quality Aluminium profiles. We operate 2 advanced automated aluminum manufacturing units strategically located very close to each other at Kallakal Village of Medak district in the state of Telangana. We are the emerging market leader in aluminium extrusion profile manufacturing and one of the top aluminium extrusion companies in India.